Community Impact
Bakersfield Doctor brings Christmas to 1st graders at College Heights Elementary school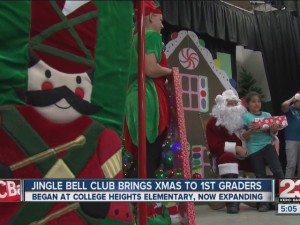 Dr. Sudhir Patel has an army of support
By: Mike Hart
Posted: 1:36 PM, Dec 24, 2014
Updated: 6:49 PM, Dec 24, 2014
BAKERSFIELD, Calif. – Dr. Sudhir Patel has fond memories of Christmas as a child, and it's those images he tries to provide to kids at College Heights Elementary school.
For the past eight years, Dr. Patel, and a band of merry medical professionals, created a winter wonderland at the low income school in east Bakersfield, complete with Santa, gifts and fun.
Now, the success of the nonprofit group, 'The Jingle Bell Club', has resulted in another school getting the Christmas treatment.
Standard Elementary took part in their first 'jingle' party this year, and the group hopes to add another batch of six-year olds from a different area school next year.
To help the nonprofit, visit their website at jinglebellclub.org.
Source: http://www.turnto23.com/news/local-news/bakersfield-doctor-brings-christmas-to-1st-graders-at-college-heights-elementary-school